20L Extrusion Blow Moulding Machine for Jerry Cans Chemical/plastic blow moulding machine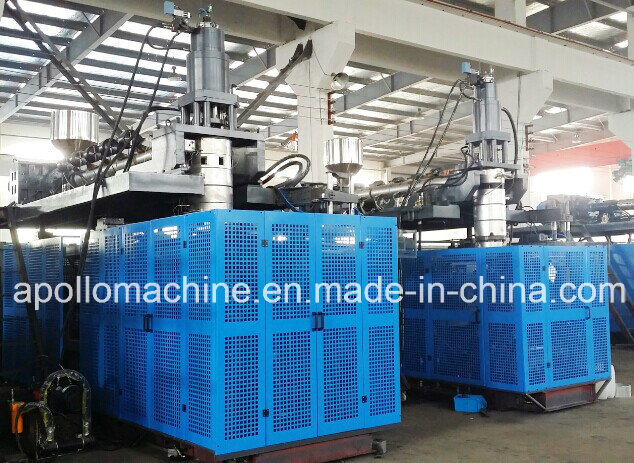 Extrusion blow moulding machine
Jerry cans blow moulding machine
Model No.: ABLD80(single station single die head)
ABLD75 extrusion blow moulding machine was specially designed for making plastic water tanks, plastic cans, lubricant oil bottles, plastic drums, plastic toys and other plastic containers not over 25L.
The features of this machine:
(1)It is suitable for producing PE, HDPE, PP, PVC so on, plastic containers and bottles in all shapes are available, the max. Product volume is up to 30L.
(2)Single station single die head design, very easy to operate and maintenance.
(3)Most components of the blow moulding machine are from famous world brand.
(4)Fully automatic process with low power consumption, high efficiency, quick and safe operation, easy for maintenance.
(5)Accumulation die head, MOOG parison controller equipped.
(6)Bottom blow technology make the product perfect.
(7)Auto lubricant system controlled by PLC.
Main parts of Machine Picture Explanation
Oil Pump
Oil pump From Japan YUKEN driving the machine
Computer control system (PLC)
Japanese Mitisubishi PLC
Used to control all electrial components and touch screen
Parison
Controller
MOOG parison
Controller
Control the thickness of products
Screw cutter device
This device is able to remove the extra top of gallons
Die head
Accumulation die head
Manipulator
Manipulator will
Take the finished
Product out
Automatically
Electric Cabinet
This part is the full electric components of the machine.
| | |
| --- | --- |
| Max. Product volume | 30 liters |
| Output capacity | 80~120pc/h |
| Screw diameter | 80 mm |
| Screw L/D ratio | 25 L/D |
| Screw drive power | 30 KW |
| Screw heating capacity | 16 KW |
| No. of heating zone | 4 zones |
| Output of HDPE | 100 KG/H |
| Oil pump drive power | 22 KW |
| Clamping force | 210 KN |
| Max. size of mold | 550X650mm |
| Mold stroke | 350-780mm |
| Max. die diameter | 280mm |
| Die heating power | 5.3 KW |
| Die heating segments | 4 zones |
| Blowing pressure | 0.8mpa |
| Air volume | 0.8 M³ /MIN |
| Cooling water pressure | 0.3mpa |
| Water consumption | 60 L/MIN |
Technical Parameters: ( ABLD80)
| | |
| --- | --- |
| electronic parts | |
| Name | Trader |
| Micro computer control system | Japanese MITSUBISHI |
| Temperature Controller | TAIWAN YANHUA PID |
| Auxiliary Relay | OMRON |
| contactor | Schneider from France |
| Electric motor | Three phase 220V or 380V |
| Power Source | TAIWANMEANWELL |
| Transducer | TAIDA FROM CHINA |
| hydraulic parts | |
| Name | Trader |
| Oil pump | TAIWANHIGH-TECH |
| Valve | JAPAN YUKEN |
| Oil pump and connection | JAPAN YUKEN |
| Sealed part | HALLITE |
| air control system | |
| Name | Trader |
| Cylinder | AIRTAC |
| Air Valve | |